president's award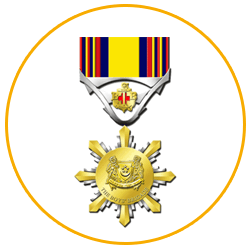 The President's Award is the highest award in the BB Programme. It is presented to Primers who have successfully completed the demanding requirements in leadership and service in the community, as well as in the BB as adventure activity leaders or event planners.
CRITERIA
To be eligible for The President's Award, Primers must have:
Attained the BB Senior Proficiency Award of the Seniors Programme;

Successfully participated in personal development courses such as Leadership and Management Programme, Character Education Course as stipulated by the Primers Programme Committee and Citizenship Programme;

Served and led in a BB Company unit or a Brigade Activity for one and a half years;

Undertaken community service with their respective Primers Company, representing or involving their sponsoring bodies, and participated in the BB CARES Programme and the BB Share-a-Gift Project, or other community service projects; and

Undertaken the Primers Challenge.