Home
> What We Do > Seniors Programme
Seniors programme

The Seniors Programme has the largest membership numbers amongst the four programmes in The Boys' Brigade (BB). Through the proficiency awards scheme, Boys acquire skills and knowledge in the four domains of Global Awareness, Community Spiritedness, Personal Mastery and Leadership.
Global Awareness
Through projects and information technology modules, Boys will investigate local and global issues. They are also given opportunities to brainstorm for solutions that they can implement to make a change in the world. Hence, Boys will better understand the challenges faced by the world today and grow to become active and concerned global citizens.
Community Spiritedness
Boys will explore the social needs in Singapore by understanding the needs of the people in the community. Boys will then respond with a heart of service and lead in building up the local community by organizing activities that will benefit the needs of specific sectors of people (for example, the elderly).
Personal Mastery
Boys will learn about discipline, perseverance and adaptability through the exposure to different activities and the learning of new skills. Character and personal habits of effectiveness and excellence that allow Boys to succeed in any team, task or responsibility will be developed.
Leadership
Boys discover the basic building blocks of relational influence in the foundational leadership habits of encouragement, social initiative, trustworthiness and service to others. They will apply core leadership principles and perspectives and lead by example to build Boys' relational influence and the trust of others.
In addition, brigade-level competitions, leadership development courses and community service projects such as
BB Share-a-Gift
and
BB CARES
offer opportunities for exposure and skills development. Mentoring also plays a big role in the Seniors Programme. With Intentional Mentoring, Boys are closely mentored by dedicated Officers who take time to develop Boys' character more closely.
Our Boys also represent the Brigade in national-level events such as the National Day Parade.
hear from a bb parent and boy!


"I was a relatively quiet and timid Boy in Secondary One. Four years in BB have past and I have grown so much after going through numerous training camps, competitions and organising various Values-in-Action activities. This is why today, I am more bold, confident, and decisive in making decisions."

- Chua Yi Dao, 5th Singapore Company, Kuo Chuan Presbyterian Secondary School


"I will never forget the camps we have gone through in BB, such as the leadership development camps and the sergeant camp. I recalled the sweat, effort and teamwork we put in to complete expeditions and tasks. I learnt important values and qualities of a leader through leading a team through an expedition."

- Daniel Cheng, 91st Singapore Company, Regent Secondary School

"Daniel became a more confident person after joining BB as his CCA. I am very happy to see him looking forward to attend every training session as he had a very supportive and approachable environment in BB. I would like to thank the BB for giving Daniel the love, care and guidance that makes him a proud son I have today."

- Mr and Mrs Cheng Hock Choon, parents of Daniel Cheng
founder's award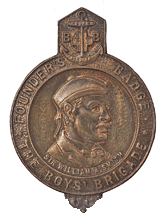 The Founder's Award is the highest and most prestigious award in the Seniors Programme. As part of the criteria for this award, Secondary 3 & 4 Boys who are aiming for this award are to participate in approved Brigade-level activities or perform duties in the Brigade.
Criteria
Recipients of the Founder's Award must have satisfied the following requirements:
Attained the proficiency badges as stipulated by the Seniors Programme Committee.

Attended at least 75 parades in the three years prior to application.

Demonstrated outstanding conduct and character.

Be recommended by the Company Captain, with the support and endorsement of the sponsoring bodies.

Completed involvement in a Brigade-level event that the Seniors Programme Committee approved for the purpose of the Founder's Award application.

Be found suitable to be awarded the Founder's Badge through the assessment structure decided by the Brigade Executive.

UNIFORM