Home
> What We Do > Seniors Programme
SeniorS programme
The Seniors Programme has the largest membership numbers amongst the four programmes in the BB. Through the proficiency awards scheme, Boys acquire skills and knowledge in the areas of Leadership, Personal Mastery, Global Awareness and Community Spiritedness. In addition, brigade-level competitions, leadership development course and community service projects such as BB Share-a-Gift and BB CARES offers opportunities for exposure and skills development. Our Boys also represent the Brigade in national-level events such as the National Day Parade.
founder's award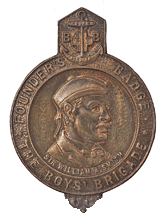 The Founder's Award is the highest and most prestigious award in the Seniors Programme. As part of the criteria for this award, Secondary 3 & 4 Boys who are aiming for this award are to participate in approved Brigade-level activities or perform duties in the Brigade.
Criteria
Recipients of the Founder's Award must have satisfied the following requirements:
Attained the proficiency badges as stipulated by the Seniors Programme Committee.

Attended at least 75 parades in the three years prior to application.

Demonstrated outstanding conduct and character.

Be recommended by the Company Captain, with the support and endorsement of the sponsoring bodies.

Completed involvement in a Brigade-level event that the Seniors Programme Committee approved for the purpose of the Founder's Award application.

Be found suitable to be awarded the Founder's Badge through the assessment structure decided by the Brigade Executive.

uniform
Day Dress
The Day Dress is the attire worn on most parades, consisting of a dark blue long-sleeved shirt with sleeves neatly rolled up just above the elbow and dark blue pants. The following are also worn:

| | |
| --- | --- |
| | |
Field service cap with cap badge

Haversack

Belt

Regulation shoulder flashes and company designation

Name tag

Dark blue socks

Black shoes
NCOs wear a white lanyard and the chevrons of their ranks. Staff Sergeants and Warrant Officers also wear a shoulder belt complete with metal bosses. A red sash is worn when a Boy is performing a function such as acting as the duty NCO, a marker, a drum major or when performing ceremonial duties. It is to be worn over the haversack and should not replace it.
Ceremonial Dress

| | |
| --- | --- |
| PTE/LCP/CPL/SGT | SSG/WO |

The Ceremonial Dress is meant for grand occasions and events. It is essentially the Day Dress but with sleeves fully rolled down and buttoned. White gloves are also worn.



MUSKETRY KIT



This attire is designed to be worn for musketry training and is suitable for drill practice or less formal occasions. It consists of the blue BB regulation T-shirt, name tag and dark blue pants. Field service cap, belt and black shoes are also worn. NCOs wear a wristband - commonly known as a field rank - that indicates their rank.



FATIGUE DRESS



This attire is for informal occasions or when fatigue duties are performed. It consists of the regulation blue BB T-shirt, name tag, dark blue pants and field ranks for NCOs. Running shoes with dark blue socks are to be worn.



PT KIT

The PT kit can be worn for informal or sporting sessions. It consists of the regulation blue BB T-shirt, name tag, dark blue shorts and field rank for NCOs. Boys are to wear white socks with their running shoes. The name tag and field rank may be removed during games.