Home
> Who We Are > BB Structure
BB Structure
The Boys' Brigade has spread across the world since our formation in 1883 in Scotland.
Today, we have grown as a youth organisation with over half a million members worldwide.
HONORARY OFFICE BEARERS
Honorary President
LG (Ret) Winston Choo, DUBC, PJG, BBM, PPA, PBM

Honorary Vice-Presidents (Clerical)
Bishop Dr Titus Chung (Anglican)
Bishop Lu Guan Hoe (Lutheran)
Bishop Dr Gordon Wong (Methodist)
Rev Dr Christopher Chia (Presbyterian)
Honorary Vice-Presidents (Lay)
Dr Lee Soo Ann, PBM
Mr Sam Tan Boon Yeow, PBM
Mr Peter Tay Yew Beng
Mr Peter Foo Chien Ho, PBM
Mr Choo Gim Kang
Mr Tan Kok Heng, PPA, PP, PBS
Dr Ho Yew Kee, PBM, PBS
BRIGADE EXECUTIVE
The Brigade Executive is the decision-making body of The Boys' Brigade, empowered to lead the organisation by making strategic policies that will propel the organisation ahead of its time.
Since January 2007, the Brigade has implemented the Cluster Structure to facilitate dialogue, foster relationships and cooperation on the ground level. There is a total of 10 Clusters with an average of 10 to 15 Companies in each cluster. The cluster groupings were mapped in close alignment to the Ministry of Education school clusters.
Brigade President
Mr Poh Leong Berg

Vice-Presidents
Mr Timothy Tan Jiat Meng
Mr Patrick Koh Ley Boon
Dr Andrew Yong
Mr Oliver Loke Jia Wen

Brigade Secretary
Mr Jason Lim Wei Hiong

Assistant Brigade Secretary
Mr Samuel Bey Zhi Wei

Brigade Treasurer
Mr Chong Loi Foong

Brigade Chaplain
Rev Daniel Tong Wee Hwa

Associate Brigade Chaplain
Rev Dr Chao Wee Chun Bernard

Standing Committees Chairpersons
Mr Liu Lijia (Juniors Programme)
Ms Philisa Neo (Seniors Programme)
Mr Kenneth Cheng Zemin (Primers Programme)
Mr Daryl Tan Jinn Wen (Training)
Mr Alex Lum Kah Heng (Activities)
Mr Peter Leong Yew Mun (Facilities)

Executive Director
Mr Desmond Koh Yee Choy

Cluster Representatives
- (North 1)
Mr Daniel Lim Wei Chong (North 2)
Mr Daniel Tay Ban Hong (North 3)
Mr Daryl Chen Wei Ming (South 1)
Mr Gerard Su Jin Song (South 2)
Mr Low Jian Xin (East 1)
Mr Andy Chua Kok Huang (East 2)
Mr Gabriel Leng Chengda (West 1)
Mr David Oh Tai Wai (West 2)
- (West 3)

BRIGADE OFFICE
The Brigade Office implements the strategic plans developed by the Brigade Executive. It also ensures the smooth running of the day-to-day operations and the myriad of exciting programmes such as national level events and training for thousands of our members across Singapore in the BB Companies.
Executive Director
Mr Desmond Koh

Deputy Executive Director
Ms Ang Hui Leng





Executive (Director's Office)
Ms Sarah Han




Executive (Director's Office)
Mr Bertrand Lee




Corporate Services

Senior Supervisor (Finance & Admin)
Ms Rosalind Fan

Supervisor (Facilities)
Mr Steven Loh

Senior Administrative Assistant
Ms Fiona Chin


Programmes

Executive
Mr Lim Ting Jie


Executive
Mr Jason Ong


Executive
Mr Ryan Sebastian

Projects

Senior Manager
Mr Frederick Kwan




stakeholder engagement

Senior Executive

Ms Ong Ying Hui






officers uniform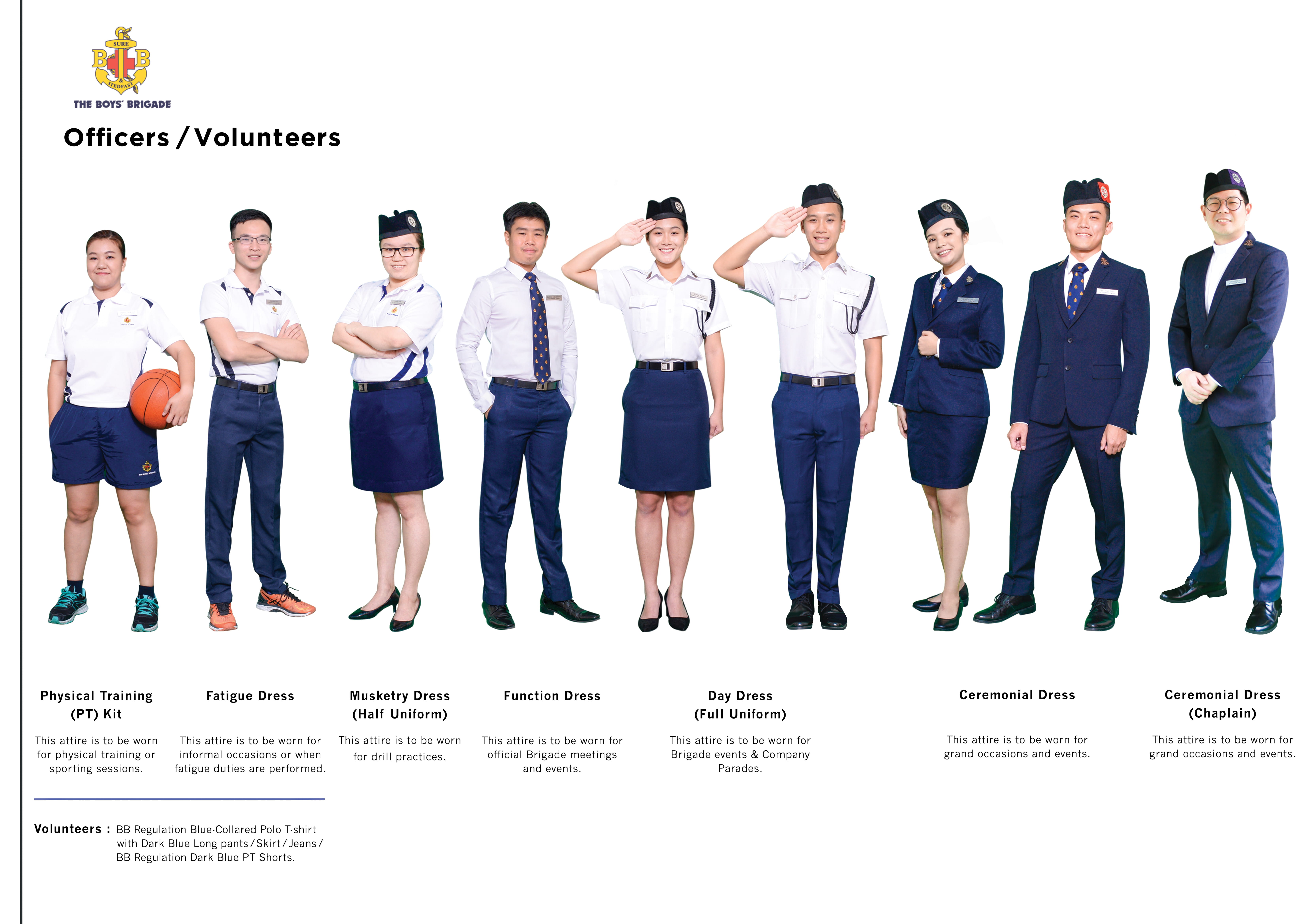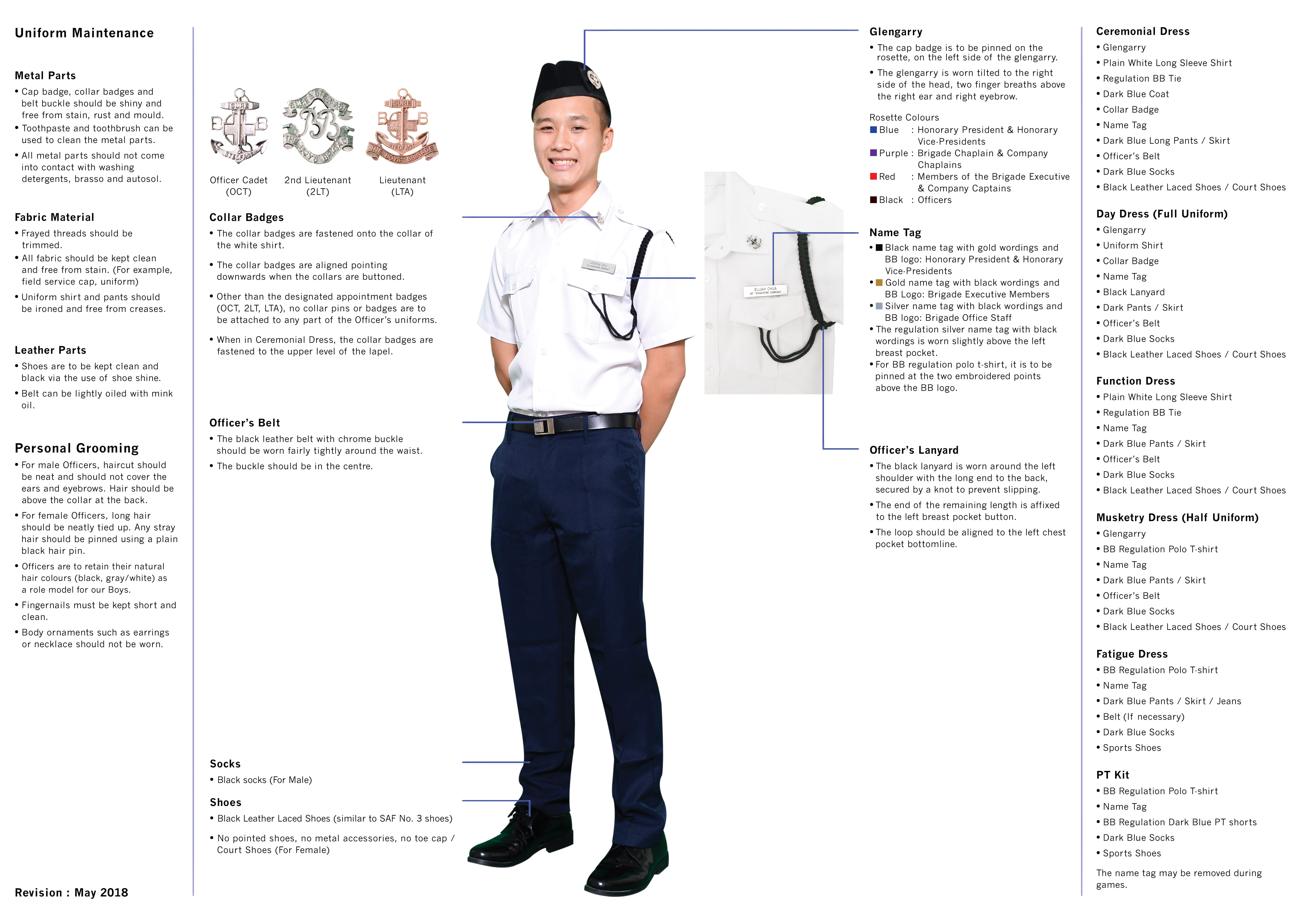 past office bearers
Past Honorary Presidents
Late Mr Tan Boon Chiang: 1968 - 2011
Late Mr Chua Siak Phuang: 2000 - 2010

Past Battalion Presidents
Late Mr James Milner Fraser, CBE: 1936 - 1955
Late Mr A M Cherian, MBE: 1956 - 1957
Late Mr Chua Siak Phuang: 1958 - 1964

Past Brigade Presidents
Late Mr Liau Nyuk Siong: 1965 - 1969
Late Mr Tan Hoay Gie: 1970 - 1975
Late Mr Fok Tai Loy: 1976 - 1978
Dr Lee Soo Ann: 1979 - 1982
Late Mr Lee Liat Cheng: 1983 - 1985
Mr Sam Tan Boon Yeow, PBM: 1986 - 1992
Mr Peter Tay Yew Beng: 1993 - 1995
Mr Peter Foo Chien Ho, PBM: 1996 - 2000
Mr John Tan Yew How: 2001 - 2002
Mr Choo Gim Kang: 2003 - 2006
Mr Tan Kok Heng, PPA, PP, PBS: 2007 - 2012
Dr Ho Yew Kee: 2013 - 2016